Battlecon for iOS
Edit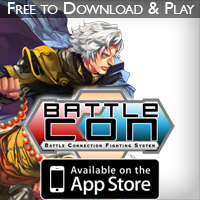 BattleCON for iOS was a direct port of BattleCON:
War of Indines
. It included two characters from the upcoming
Devastation of Indines
, Shekhtur and Eligor, as well as ten returning fighters from the standalone card game. Only 1vs1 modes were available and only 4 characters had an implemented.
The first version allowed for online play or local play, aswell as training against 4 AI opponents.
The app is no longer available on the iOS store.
Udpate History
Edit
1.0 Release
Edit
4 unlocked characters from the start. (As per the demo version of War of Indines ). 
6 additional WoI characters unlockable through online play (or bought as DLC).
2 DLC only characters from DoI. 
1.1 update
Edit
3 additional DLC characters were available to download. 2 from WoI and 1 from DoI.
Arcade mode was included featuring a random, final boss playing EX bases.
All of the cast has a working AI.
Cadenza - Juggernaut
Demitras Denigrande - Gambler
Hepzibah Culotre - Daredevil
Hikaru Sorayama - Universalist
Kallistar Flarechild - Opportunist
Kehrolyn Ross - Aggressor                   [1.1 Update]
Khadath Ahemusei - Trapper
Luc Von Gott - Brawler
Magdelina Larington - Evolver
Regicide Heketch - Harrier                    [1.1 Update]
Rukyuk Amberdeen - Ranger
Vanaah Kalmor - Striker
Eligor Larington - Avenger
Marmelee Greyheart - Striker                [1.1 Update]
Shekhtur Lenmorre - Daredevil

Runika appears as one of the teachers on the tutorial.
Oriana opens the portal to the AppStore to download In-app purchases.