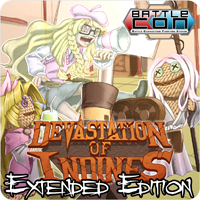 BattleCon: Devastation of Indines Extended Edition
[
]
The Extended Edition is the name given to a collection of additional items that extend and improve the BattleCon: Devastation gaming experience.
Originally featured as stretch goals and addons during the Devastation Kickstarter campaign, the items are now available as a purchase from the level99games webstore.
Contents
[
]
Alternate Art Character Cards
[
]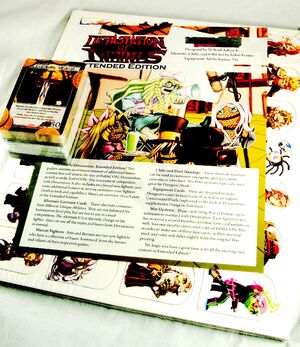 Extended Edition contains alternate art character cards for every character featured in Devastation. These cards were all illustrated by Fabio Fontes and were deliberately drawn as non-canon versions of the characters, in an attempt to capture alternate sides of their personalities or characters. 
In addition, each alternate art card contains an alternate Unique Ability. These abilities use (for the most part) the same kit as the official character, but add a new twist on it. These are not designed or balanced for tournament play.
Alternate Standups
Extended edition contains three alternate sets of card standups for each character - an alternate art standup (matching the character cards above), a chibi (super-deformed) standup and a pixelated standup (using the art from Pixel Tactics). 
Mascot Characters
[
]
Extended Edition introduced mascot characters for both War and Devastation. These mascots both use similar abilities, and replace the standard bases for the game with a set mimicing other characters from their respective games. It is expected that future releases will continue this trend.
War of Indines Update Pack
[
]
Extended Edition contains a set up updated cards for gamers who own the classic edition of BattleCon: War. These cards use the classic art and contain fixes and rebalances for all 18 original characters, as well as new double-sided finisher cards to match Devastation. There are also a small selection of updated tokens and counters to accompany these changes. The current second edition no longer contains this pack as the updates were implemented in War Remastered. 
Armory Cards
[
]
Finally, Extended Edition contains a set of Armory cards - equipment and items that can be purchased before a match by both fighters. This is an extension of the armory included in the manual for the BattleQuest co-operative game mode.