Minigame Library
Edit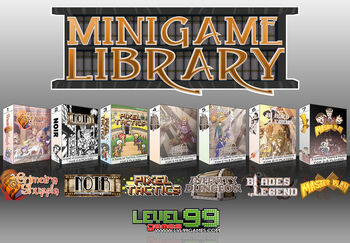 Minigame Library is a collection of games small enough to fit in your pocket, but big enough to enjoy over and over again with friends and family. Each game attempts to fill a different niche, and each provides a different play experience. This means that no matter what group you're together with or what genre or style of game you're looking for, you'll be able to find pull out a game that provides 15-45 minutes of fun for a party of any size.
Minigames are easy enough to teach in 5-10 minutes, but provide hours of repeated play and excitement. In a minigame, we look for a product that is simple to learn, deep to master, and extensively replayable and enjoyable. We guarantee that your fellow gamers will be requesting to play these games over and over again.
NOIR - A deductive mystery thriller for 2-4 players.
Grimoire Shuffle - A team-based puzzle relay race for 4 or 6 players.
Pixel Tactics - A game of tactical combat for 2 players.
Infinity Dungeon - Delve through a trap-filled dungeon in this absurd storytelling game. For 4-8 players.
Infinity Dungeon 2 - Additional rooms and characters for use with Infinity Dungeon.
Blades of Legend - An epic secret roles game with variable powers. For 6-11 players.
Master Plan - A gameshow for supervillains that plays on a real-space tabletop. For 3-6 players.
Characters of Indines in Minigame Library
Edit
Pixel Tactics is set in the World of Indines and thus characters from the various games feature heavily on this game.
Voco Astrum appears as one of the supervilains in Master Plan under his evil alter ego name Z-mask.
While there has been speculation that Grimoire Shuffle could be set on Argent University, the rulebook names the library as the Imperial Library. Being Relecour a Baronship, it seems out of place to name the Library like that. The only empire in Indines so far is Gesselheim.