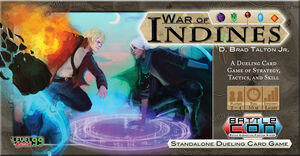 BattleCon: War of Indines
The first complete BattleCON set is titled "War of Indines", and follows the adventures of the heroes and villains of a fantasy world. Indines is a fantastic world of ancient magic, high technology, and political intrigue, where daring heroes and epic villains are daily fare, and where there's always an adventure of some type to be had.
BattleCon: War of Indines - Remastered Edition
In May 2014, lvl99games launched a Kickstarter campaign to release a Remastered edition of War, with the aim of bringing it up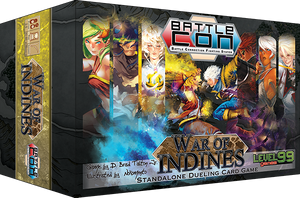 to the standard of Devastation. With updated art by Nokomento, double sided finishers, re-balanced cards, re-sized counters and a new game board, the new set is intended to replace the Classic edition entirely.
Cast and Roles
Main Cast
War of Indines contains 18 main characters. Since Remastered Edition, these characters are divided into 3 Complexity Flights of 6 characters each.
Flight 1 - Beginner Level
Flight 2 - Intermediate Level
Flight 3 - Advanced Level
Guest Characters
The classic edition of War of Indines contained three guest characters appearing from other sources. These characters are not considered canon to the Indines universe, and are included by permission of their relevant creators.
A fourth promotional character is available through the BoardGameGeek web store.
A fifth character was made available as a print and play only reward for kickstarter backers.
Five other characters were created through an custom character pledge level. Each of those had only 15 copies printed and sent exclusively to their creators.
Promotional Characters in War of Indines: Remastered Edition
Iskra Brimstone (Crossover with Mage Wars )
Prince Elien (Crossover with Summoner Wars)
Vincent Grey (Crossover with UFS/Red Horizon)
Raederick Blackforge (Crossover with Mage Wars )
Nehtali (Crossover with UFS/Red Horizon)
Eliza (Level 99 Mascot)
Anath (First physical printing, previously only available as a print-and-play)
Also, as a stretch goal, a brand new secret character, Evil Hikaru, will be avaliable through a code hidden in the game.
Print and Play
A Print and Play demo of War of Indines is available for download, including four playable characters - Kallistar, Cadenza, Hikaru and Khadath.